Romeo and Lockwood are receiving international airplay for their new CD "Ladies Love Country". Here are just some of the DJs and countries where their music can he heard:
Barry Wass - Australia
Robert S. Dew - New Zealand
Heavy Airplay*
Etienne Berthels - Belgium
Pete Smith - UK
Alex Pijen - Holland
Jenn Hauser - Wisconsin
Lou Nelson - Texas
Dy Vikckie - Mesa, California
You can listen to Romeo and Lockwood if you go to twangtownusa and enter progrm listings.
DJ Dave Spulock now playing "Ladies Love Country" or Country Nights Program and Rev. Wayne Graham, romeo and lockwood's "You Are Never Alone".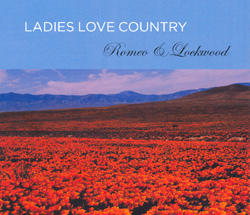 PRESS RELEASE: Sweet Dixie Records, Inc. Country recording artists Jeannie Romeo and Alice Lockwood are excited about their newly released third cd of originals entitled "Ladies Love Country." Romeo and Lockwood recorded their third CD at two studios in Nashville. The music tracks were done at Water Shed Studios with Arvel Bird coordinating the project along with the ladies who did much pre production work on their new CD. All the songs were written by the duo or individually and Jeannie and Alice say they are so proud of their latest effort.
Randy Gardiner did the engineering for the music tracks and is a well respected engineer worked with many country stars such as Steve Wariner on their projects. The musicians on this CD are like a who's who of players in the country music field. On guitar, Andy Reiss who played and worked on Romeo and Lockwood's last two cd's has been on the stage of the Grand Ole Opry working with artists such as Reba McIntyre.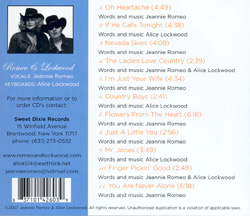 Romeo and Lockwood decided to visit the Opry on a night off from recording only to find Andy playing guitar for some Opry stars that evening !!!!! Peter Young, whom the girls call super drummer has worked with Loretta Lynn and the ladies were happy he could play on their latest CD. Pat Sievers, who not only played steel guitar on the session but also played banjo has been on tour with the Everly Brothers in England. Alice and Jeannie were happy to talk about the work they did with the Everlys with Pat. It's clear that Pat is a real pro and a true professional. Many of the musicians are multi-talented and no exception is Arvel Bird who has helped produce the three CDs for Romeo and Lockwood. Be sure to listen for his great fiddle playing on many of the songs on this CD. On bass guitar is Dow Tomlin who has played with numerous country stars. On acoustic guitar is Mike Harrison. Mike's studio, Harrison House Studios is top notch and Jeannie Romeo felt right at home recording her vocals. Wife Julie, really made us feel at come whipping up some delicious banana bread. Jeannie cannot say enough about the quality of the studio and professionalism of Mike!!!!! Jeannie was thrilled to have her favorite background vocalist on this third CD Neatha Larson-Schrimpf. Romeo and Lockwood were happy to have Michael Lusk as background vocalist along with Neatha on this CD. Michael has been on tour with Loretta Lynn. i Guess you can't get better than that! Of course Jeanie and Alice had Mom Yola there who we now call "The Ear". If Yola says it's good, well it is!
Please visit Romeo and Lockwood's website for photos and some samples from the new CD - Release date forthcoming so watch fo the news!
| | |
| --- | --- |
| | Romeo and Lockwood CD # 3 "The Ladies Love Country" & they sure do |
| | Simply the best producer Arvel Bird with Jeannie Romeo |
| | Arvel, Alice and Mom Yula at the studio |
| | Jeannie getting ready for her vocal performance |
| | Randy Gardiner, engineer, making it all come together - a real pro! |
| | Romeo and Lockwood love guitarist Andy Beiss - the best! |
| | Pat Sievers on Steel Guitar - what a talented player! |
| | Mike Harrison - great acoustic guitar and engineer to boot! |
| | Bass guitar keeps that bass humming Dow Tomlin |
| | WOW - Peter Young can really play those drums. |
| | Jeannie and Alice's favorite background vocalists Neatha Schrimpf and vocalist Michael Lusk |

| | |
| --- | --- |
| | We are proud to announce the creation of our new on-line store where you can purchase a copy of our new CD "Forever Country". |

NEW! CD "Forever Country" is now available for $10.00 plus $2.00 shipping & handling inside the US. $4.00 shipping for delivery outside the US. All shipping via regular US Mail.
make checks or money orders payable to:
Sweet Dixie Records, INC.
15 Winfield Avenue
Brentwood NY 11717
**Also receive the first CD "Heartfelt,"
For only 5.00 with the $10.00 order of "Forever Country."
or call Alice (631) 273-3577
or email:
alice514@earthlink.net
Contact Romeo and Lockwood:

Jeannie Romeo
P.O. Box 335
Sheffield, MA 01257
Phone: (413) 717-8490

Email: jeannieromeo@gmail.com

Alice Lockwood
15 Winfield Ave
Brentwood, NY 11717
Phone: (631) 273-3577

Email: alice514@earthlink.net