Fill out the form or use the contact information below to send Romeo and Lockwood a booking request.
For booking information, please contact:

Jeannie Romeo
116 Chapel Ave
E Patchogue, NY 11772
Phone: (413) 248-1169

Email: jeannieromeo@hotmail.com

Quotes from industry veterans:
Colonel Buster Doss Ceo of Stardust records , award winning legendary promoter and recording artist : "You're a great act. You deserve all the recognition you're getting. "
Bunny Mills Ceo of Greenback Records: "All I can say is, we've got a couple of superstars with us. What these girls do is a Las Vegas act!"
Zeke Thomas Program manager of TIAC Radio says that he spoke to several Opry veterans such as Johnny Moore who also sang the praises of this dynamic duo.
Lou Nelson President of Texas Drover Records: "Romeo & Lockwood are more than Stars on the Horizon. They are two of the most outstanding artists who performed at the TCMA show. They are going places in this business!"

Carrol Parham owner and director of the Cross Timbers Opry in Stephenville, Tx: "The audience absolutely loved them. They're one hundred percent Country, even though they're Yankees. I told them they're welcome to come back any time."

Grand Ole Opry veteran Jack Green: "I hope to see you at the Opry soon!"

Jason Hawkins President of Airplay International and Foxfire Records: "You absolutely blew me away! You girls are the real deal!"

Jennifer Fox Vp of Airplay International and Foxfire Records: "You two are sweethearts. You're easy to work with, and your talent is outstanding, but you're two of the most down-to-earth ladies I've ever met."

Tom Wardle popular host of the "Heartaches and Honkytonks" radio show: "Their CD of originals, HEARTFELT, is superb! But I was most impressed when, during our live interviews, the boards lit up and we were flooded with calls from fans who wanted to talk to these funny and entertaining ladies."

Don Everly of the Everly Brothers, during the Everly Brothers Homecoming Festival in Central City, Kentucky: "You're doing a great job! Love your music!"

Lightning Chance bassist on some of Patsy Cline's recordings: "Jeannie, Patsy Cline ain't got nothing on you!" Alice, you play like the best of them!"

Rhonnie Scheurman President of Rhon Bob Promotions: " "It is an honor to promote these two soon-to-be Country superstars. They are dedicated, hard working, and a pleasure to work with. They're appreciative of everything you do for them and are devoted to their fans."

Texas Loves Romeo & Lockwood!

Jeannie Romeo and Alice Lockwood returned triumphantly to the stage at The Cross Timbers Opry in Texas. Host Carol Parham was so thrilled by their first performance that he invited the ladies back and made them featured performers. Their show included some originals and covers with Romeo & Lockwood lending their special touch to classic songs making them their own.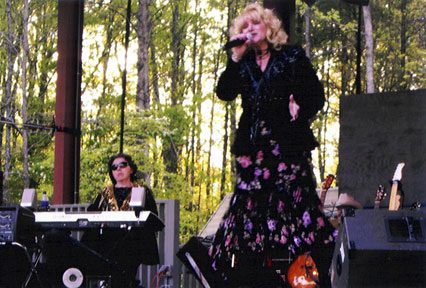 Romeo and Lockwood put on a great show of country music with a touch of humor that brought the crowds to their feet!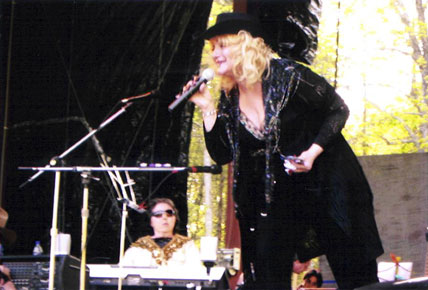 Romeo and Lockwood performing on stage in beautiful Monteagle, Tennessee.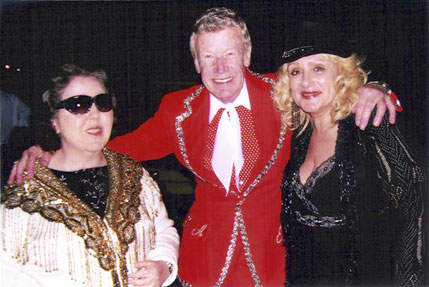 Alice Lockwood, Ernie Ashworth, Jeannie Romeo .
Romeo and Lockwood shared the stage with Legendary Grand Ole Opry star Ernie Ashworth!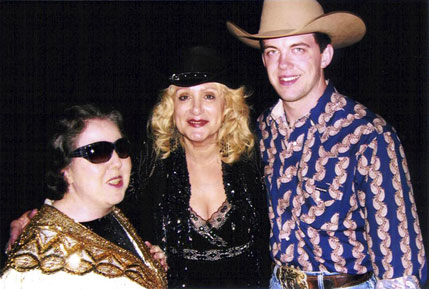 Alice Lockwood, Jeannie Romeo, Troy Cook Jr.
Country stars, both legends and newcomers, perform at the Jamboree. Pictured here is Troy Cook Jr. with Romeo and Lockwood. Troy and his band will soon be appearing in a major motion picture. Great guy!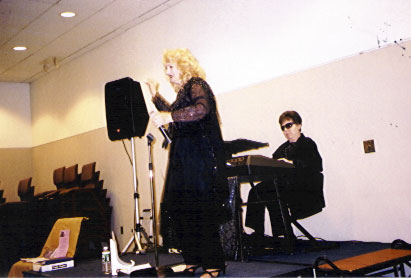 Jeannie & Alice Lockwood Library Special Presentation 2003.
CD Presentation of "Heartfelt". Thank you fans for your appreciation of our music!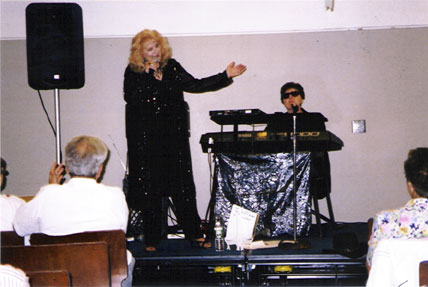 Jeannie Romeo (standing) Alice Lockwood (keyboard) loving performing.

ROMEO AND LOCKWOOD A SUCCESS IN TEXAS!
Jeannie Romeo and Alice Lockwood (Romeo and Lockwood) have just returned from a successful trip to Texas, where they performed at the Ernest Tubb Record Shop in Fort Worth, and were featured performers on the Cross Timbers Opry in Stephenville, TX.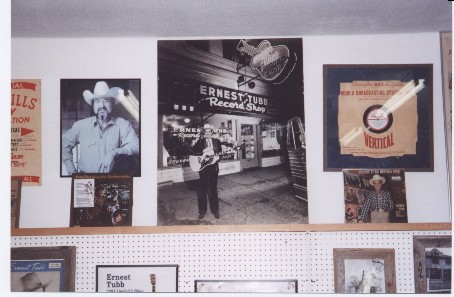 Here's a photo of country legend Ernest Tubb outside of his record store in the 1940's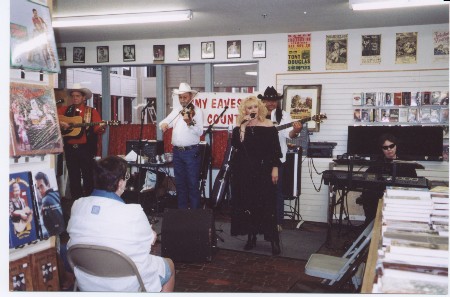 Showtime at the Ernest Tubb Record Store in Fort Worth, TX, hosted by Jimmy Eaves Pure Country
Carroll Parham, owner-operator of the Opry, which has been in constant operation for some 24 years, had this to say about Romeo and Lockwood:
"Romeo and Lockwood really surprised me. They have a high-powered show. Alice is very good on the piano. Wish I had her working for me. Jeannie is a very talented vocalist, and together, they're great! I would certainly use them again, and would recommend them anywhere. Thanks for a good job!"
Romeo and Lockwood peaked at number 13 on the TopTrax Traditional Country USA airplay chart, and received the "Star on the Horizon" award from the Tennessee Country Music Alliance in April.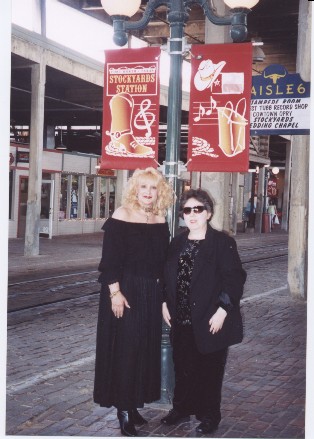 Outside of Ernest Tubb Records at the stockyards in Fort Worth, TX.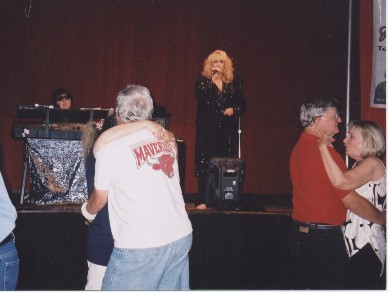 Galt House Hotel, Kentucky was a blast!! Over 2,000 people attended.
What a crowd!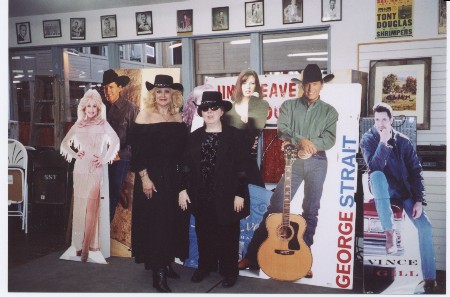 A few legends of country music (and us!)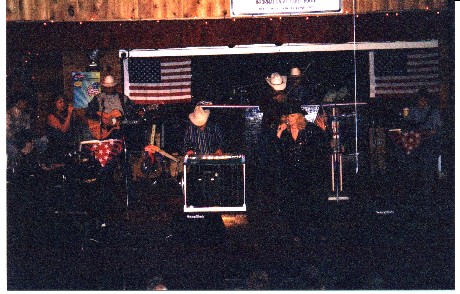 Texas Opry at Stevensville, TX. Legendary performers have played here and we were warmly received by Texas folk!